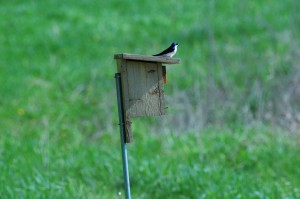 The W.K. Kellogg Bird Sanctuary has participated in collecting nest box data since 2007.  There are currently 24 cedar nest boxes located on the Sanctuary grounds and 12 more located on the Gull Lake shoreline of the main Kellogg Biological Station campus.  Nest box monitors collect data on what bird species is using the box, when did the species start nesting, how many eggs are laid, did they all hatch, and how many hatchlings make it to fly away (fledge).   Collection of this data involves our monitors checking the boxes twice a week from the middle of April until the end of August.  It is a large time commitment that is incredibly rewarding to see the baby birds develop into fledglings!
All of the nesting data collected gets entered into the NestWatch database from the Cornell Lab of Ornithology.  This database is a resource for researchers all over the world to study the current condition of breeding bird populations and how they may be changing over time as a result of climate change, habitat degradation and loss, expansion of urban areas, and the introduction of non-native plants and animals.
The Sanctuary also monitors nesting behaviors of the Purple Martins that use the nesting gourd rack located near the Overlook Museum on the grounds.  A martin house was re-installed in this location in 2012 and we have had at least one nesting pair every summer since!  The house was changed to a gourd rack in 2014 because it was found that the martins prefer the gourds over the house.
Our Purple Martin monitors collect data on what age of Martins are nesting, when did they start nesting, when are the eggs laid, when did the eggs hatch, and when did the hatchlings fledge.  This data is submitted to the Purple Martin Conservation Association's Project MartinWatch.  The Purple Martin population has been decreasing in the state of Michigan over the last 20 years.