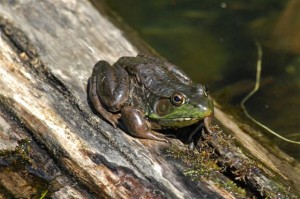 In 2014, the Kellogg Bird Sanctuary started recording sightings of our reptile and amphibian populations (also know as herps or herpetofauna). These sightings can be recorded within the Michigan Herp Atlas. This is very useful information in documenting reptile and amphibian distribution and changes in population over time.
The Michigan Herp Atlas Project began in 2004 and was initiated by the Michigan Department of Natural Resources. Prior to this project, no statewide surveying or monitoring of herp populations had been done. The project seeks to collect observations from anyone with an interest in herps. Data can be entered on their website or on the newest version of a smartphone application.
So, get involved and submit data for the American Toad that you saw in your garden the other day!