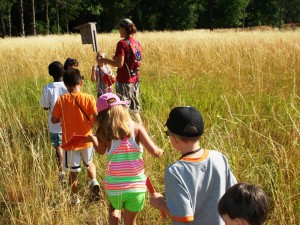 Come and join us for a field trip and step outside of the classroom! Explore the diverse habitats and wildlife of the W.K. Kellogg Bird Sanctuary with trained educators. The Sanctuary offers many different experiences for groups of all ages. Please book your field trip, using the form on our Group Visit page, at least 4 weeks in advance. All groups must pay the group visit admission fee in addition to the field trip cost. All field trips are structured for groups of 30 people. If your group is larger than 30 people, additional fees and time may be required.
The Kellogg Biological Station has a long standing relationship working with K-12 teachers. Please visit the K-12 Programs webpage to learn more about the classroom resources that are available, including lesson plans. Also, check out their professional development workshops!
Agriculture and Ecology Student Activity Trail for 1st-4th graders
This tour introduces students to why agriculture and ecology are both needed to enjoy a bowl of Kellogg's cereal. Students engage in hands-on activities and
gain an understanding of how agricultural ecosystems and science are helping us understand and benefit from the interactions between soils, crops, and livestock with our air, water, climate, and wildlife.
Audience Age: 1st to 4th grade
Program Length: 90 minutes
Group size: 60 maximum
Cost: $75
Aquatic Ecology for 6th-12th grade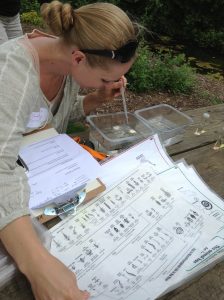 Aquatic macroinvertebrates are important parts of both terrestrial and aquatic food webs. Students will be sampling macroinvertebrates from a stream or lake and will get a hands on, up-close experience to learn about what they are, where they live and why we should care about them. Activities include creating an aquatic food web, observing an aquatic habitat, sampling, sorting and identifying macroinvertebrates.
Audience Age: 6-12th grade
Program Length: 90 minutes
Group Size: 30 maximum
Cost: $75
Bird Adaptations Guided Tour for all ages
This tour will touch on the history of the Sanctuary and highlight bird adaptations of three groups of birds: birds of prey, waterfowl and upland game birds. Seasonal highlights include spring nesting behavior, summer care of young, fall migration and winter survival.
Audience Age: Everyone!
Program Length: 90 minutes
Group Size: 60 maximum
Cost: Learn more on our Guided Tour page.
Birding Basics for 3rd grade to Adult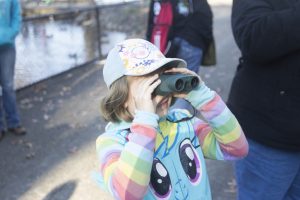 Learn the basic keys of bird identification including how to look for identifying features and proper use of binoculars. Then, use the binoculars as you tour the Sanctuary, see even more wildlife, and practice your new skills!
Audience Age: 3rd grade – Adult
Program Length: 30 minutes
Group Size: 30 maximum
Cost: $50
Birds of Prey for all ages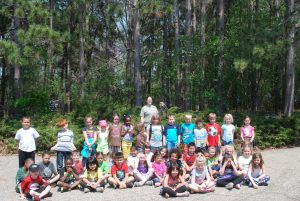 Join Sanctuary staff for an exciting meet-and-greet with a live bird of prey and learn why raptors are unique hunting and flying machines.
Audience: Everyone!
Program Length: 30 minutes
Group Size: 60 maximum
Cost: $50
Habitat Selection Investigations for 8th-12th grade
In this field trip, students will explore why individuals in a patch select certain habitats. They will learn about Fretwell's Ideal Free Distribution theory, and they will conduct an experiment using this theory. Students will record data from the experiment about how many birds come to their station and the behavior of those birds. After running the experiment, the students will graph the data they found and answer questions about the data.
Audience: 8-12th grades
Program Length: 90 minutes
Group Size: 30 maximum
Cost: $75
Owl Pellet Dissection for 3rd to 5th grade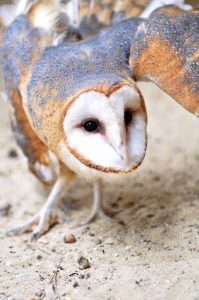 Learn how to identify a Barn Owl and how it is a top predator in a food web. Then head down to the classroom to dissect a Barn Owl pellet and use a chart to identify what prey has been consumed by it.
Audience: 3rd- 5th grades
Program Length: 90 minutes
Group Size: 30 maximum
Cost: $75
What is a Scientist? for 1st-3rd grade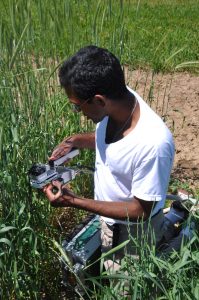 A scientist is a person that investigates the natural world through experiments and observation. Students will draw what they think a scientist looks like and meet – a real life scientist from the W.K. Kellogg Biological Station! Students will examine stereotypes about scientists and expand their understanding of what scientists might look like and what they do. They will practice scientific observation skills and tell their peers what they observed. Maybe they will learn that they too can be a scientist one day!
Audience: 1st – 3rd grades
Program Length: 60 minutes
Group Size: 30 maximum
Cost: $63
Custom
Please contact our Science Education and Outreach Department if you are looking for a more specialized field trip experience.
Audience: All ages
Program Length: 90 minutes
Group Size: Dependent upon program details
Cost: $75 minimum, dependent upon program details