Sign up to become a volunteer at the Kellogg Bird Sanctuary! A variety of opportunities await volunteers of all ages.
Discover the satisfaction of helping children understand the beauty and function of a bird's feather, assist in coordination of special programs and family events, or welcome visitors in our gift shop.
Kellogg Bird Sanctuary volunteers are asked to commit just 40 hours per year, which is less than one half day per month.
Interested? Please complete the following application to be considered for our many volunteer opportunities.
Volunteer Applications
Adult Volunteers
KBS Adult Volunteer On-Line Application (will take you to an external page)
VolunTeens (ages 13-17)
KBS VolunTEEN Volunteer On-Line Application (will take you to an external page)
Volunteer Job Descriptions
Junior Counselors – Summer Day Camp (VolunTeens, 14-17 years old / 9th-12th grade)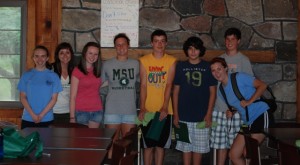 The W.K. Kellogg Bird Sanctuary Summer Day Camp is looking for enthusiastic, responsible and caring teen volunteers (VolunTeens) to be Junior Counselors and help supervise and teach campers engaging, hands-on activities exploring the natural world and our connection to it.
Summer day camp runs for 4 weeks: July 6-10; July 13-17, 20-24, and 27-31. Individuals can volunteer one or more sessions of camp but a commitment to an entire week session is required. Applications due June 1. Required training is Wednesday, July 1, 2015 from 8:30 a.m. – 3:30 p.m.
VolunTeen Camp_Description 2015
Qualifications
Must be available for at least one full week of camp, see dates above
Must be at least 14 years of age (entering high school freshman)
Interested in working with children, science and nature
Not required but is helpful: Certification in Standard First Aid and CPR/AED for Adult plus Child and Infant
To apply complete steps below by June 1, mark your calendar for training Wednesday, July 1 from 8:30 a.m. – 3:30 p.m:
New Volunteers
Complete the online VolunTEEN application see links above.
Returning Volunteers
Send Misty an email at klotzmis@msu.edu to let her know you would like to be active again this summer!
All Volunteers
Please complete this short online survey about your availability, https://kbsmsu.wufoo.com/forms/jr-counselor-info-sanctuary-science-camp/
Please complete the forms below:
Return to Misty via either scan/email to klotzmis@msu.edu, fax at (269) 671-2409, or US Mail to KBS Volunteer Program, 3700 E. Gull Lake Dr., Hickory Corners MI 49060.
Tour Volunteers
Volunteer tour guides are needed year-round to lead groups ranging from preschool age to senior citizens through this unique wildlife conservation center. Tours last about one and one-quarter hours and are most often scheduled Monday-Friday between 10am and 2pm. Training is provided. Applicants must be able to journey a 3/4 mile trail. Ages 18 & older.
Tour_Guide_Volunteer Description (pdf)
Agriculture & Ecology Student Activity Trail Guides
Volunteer tour guides are needed to lead school-aged groups (mostly 2nd through 5th grades) along the KBS LTER Agriculture and Ecology Student Activity Trail. Tours depart from Kellogg Bird Sanctuary, last about 1.5 hours and are most often scheduled weekday mornings and afternoons during the school year. Trail is open April 15 – November 1. Training is provided. Applicants must be able to journey a 3/4 mile trail. Ages 18 & older.
LTER_Tour_Guide_Volunteer Description (pdf)
Resource Center Volunteers
Resource Center/Gift Shop volunteers are needed throughout the year and are asked to work one Saturday or Sunday shift per month. From April through October volunteers may choose between a 9 am to 1 pm shift or a 1 to 5 pm shift. For November and March volunteer shifts are 11 am to 4 pm. The Resource Center is closed Thanksgiving to March 1st. Training is provided. Ages 18 & older.
Resource Center / Gift Shop Volunteer Description (pdf)
Garden Volunteers
Do you have a green thumb? Would you like to weed, water and help take care of our Sanctuary garden? The Bird Sanctuary welcomes volunteer gardeners. Gloves, trowels and tools are provided. Contact us to schedule some hours in our garden today. Ages 16 & older. Youths over 7 yrs ok with supervising adult.
Garden / Grounds_Volunteer Description (pdf)
Bird Care Volunteers
(ALL POSITIONS ARE CURRENTLY FILLED.) Bird Care volunteers are needed year-round to help care for our birds by assisting with feeding, cleaning and maintaining enclosures and helping with bird physical exams and checkups. Volunteer shifts are 4 hours between 9am and 5pm on both weekdays and weekends. Bird Care Volunteers are asked to commit to one shift per week for a minimum of 6 months. Ages 18 & over.
Bird_Care_Volunteer Description (pdf)
Nest Box Volunteers
(ALL POSITIONS ARE CURRENTLY FILLED.) A great excuse to take a weekly walk with friends across the Sanctuary's beautiful grounds. Nest Box volunteers travel a half mile path twice a week from April – September to monitor and help maintain nest boxes. Ages 18 & over.
Nest_Box_Monitor_Volunteer Description (pdf)
For more information call (269) 671-2263 or email volunteers@kbs.msu.edu