Explore big ideas and investigate natural systems on your next field trip with programs that are aligned with the Next Generation Science Standards.
The Sanctuary offers authentic interactive learning opportunities and has been a part of conservation science for generations.
Participants explore and investigate natural resources and agriculture while making important connections about how science is part of their daily lives.
Be a part of the next generation of field scientists and explorers:  Schedule your group's visit today!
Planning:
Scheduling: Book your trip at least 4 weeks in advance
Group size: We can accommodate groups of 10 up to 100 individuals in a day. The field trip programs are structured around 30 participants.
Fees: Groups pay an admission fee in addition to the field trip program cost. If your group is larger than 30 people, additional fees and time may be required.
Agriculture and Ecology Student Activity Trail for 1st-4th graders
Students engage in hands-on activities to discover how farming and nature are important to a bowl of Kellogg's cereal and other foods we eat.
Education stations:
Weather and climate
Thirsty plants (water cycle)
Seeds (what makes a seed grow)
Soil discovered (microorganisms & or soil structure)
Helpful insects
Prairie plants and natural areas
When I grow up: Discovering science careers. According to the food and agriculture organization one in three jobs worldwide are in agriculture!
Students will:
Learn about 4- 6 parts of farming
Identify with a career in science or farming
Recognize that many people and parts work together to create the food we eat.
Teachers Note:
Receive pre-and post-student activities (Link PDF)
student activity booklet for each student (Link PDF)
Planning:
Program Length: 90 minutes
Group size: 60 students
Cost: $75
Aquatic Ecology for 6th-12th grade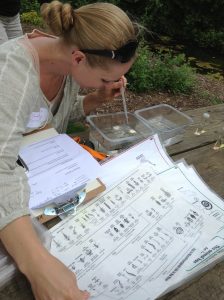 Through collection and observation, students learn about Macroinvertebrates by classifying and counting their invertebrate samples and using them as an indicator to determine the water quality of wintergreen lake.
Students will:
Recognize that Macroinvertebrates exists and what part they play in her ecosystem
Be able to classify organisms based on similarities and differences in morphology
Explore what Macroinvertebrates data can tell them about streams and lakes
Audience Age: 6-12th grade
Program Length: 90 minutes
Group Size: 30 maximum
Cost: $75
Bird Adaptations Guided Tour for all ages
You don't have to go far to see feathered friends and understand how birds (raptors, waterfowl and upland game birds) adapt to survive. This tour will touch on the history of the Sanctuary and highlight bird adaptations of three groups of birds: birds of prey, waterfowl and upland game birds. Discover seasonal highlights by booking a tour in every season; spring nesting behavior, summer care of young, fall migration and winter survival.
Audience Age: Everyone!
Program Length: 90 minutes
Group Size: 60 maximum
Cost: Learn more on our Guided Tour page.
Birding Basics for 3rd grade to Adult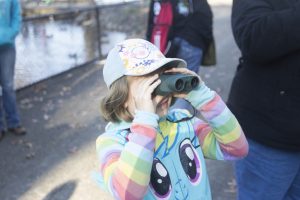 Start birding at any age by taking an hour to learn the basics. We will cover how to use binoculars and que in on a few birding identification traits.  Then wonder the Sanctuary to see even more wildlife and practice your new skills!
Program Length: 30 minutes
Group Size: 30 maximum
Cost: $50
Birds of Prey for all ages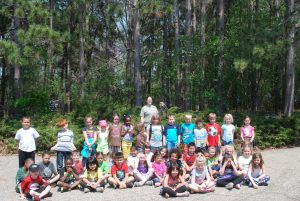 Learn why raptors are unique hunting and flying machines, in an exciting up close and personal way. After the program get your photo taken with one of the raptors (Red Tail Hawk or Great Horned Owl)!
Audience Age: Everyone!
Program Length: 90 minutes
Group Size: 60
Program Length: 30 minutes
Cost: $50
Habitat Selection:Foraging theory for 8th-12th grade
Students will set up an experiment, collect and analyze data to test foraging behaviors of Swans' Geese and Ducks, using  ideal free distribution (IFD), theory. After running the experiment, the students will graph the data they collected and answer questions about the IFD theory.
What is Ideal free distribution theory? It is defined as the distribution of individuals among habitat areas expected under the assumptions that individuals (1) distribute themselves to optimize their health and resources, (2) are free to move among habitat patches, that is, without any cost or restraint, and (3) have a perfect (ideal) and immediate knowledge of the relative quality of habitat patches." B. Doligez, T. Boulinier, in Encyclopedia of Ecology, 2008
Teachers: Download IDF lesion plan, PDF
Audience: 8-12th grades
Program Length: 90 minutes
Group Size: 30 per class session
Cost: $75
Owl Pellet Dissection for 3rd to 5th grade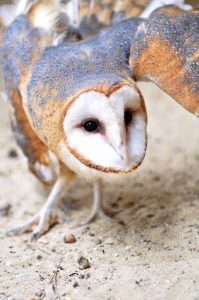 Learn how to identify a Barn Owl and how it is a top predator in a food web. Then head down to the classroom to dissect a Barn Owl pellet and use a chart to identify what prey has been consumed by it.
Audience: 3rd- 5th grades
Program Length: 90 minutes
Group Size: 30 maximum
Cost: $75
What is a Scientist? for 1st-3rd grade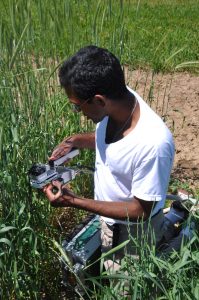 A scientist is a person that investigates the natural world through experiments and observation. Students will draw what they think a scientist looks like and meet – a real life scientist from the W.K. Kellogg Biological Station!  Students will examine stereotypes about scientists and expand their understanding of what scientists might look like and what they do. They will practice scientific observation skills and tell their peers what they observed.  Maybe they will learn that they too can be a scientist one day!
Audience: 1st – 3rd grades
Program Length: 60 minutes
Group Size: 30 maximum
Cost: $63
Custom
Please contact our Science Education and Outreach Department if you are looking for a more specialized field trip experience.
Work with one of science education staff to collaborate on a field trip experience where students investigate real world issues to make a positive difference in their local community.
Audience: All ages
Program Length: 90 minutes
Group Size: Dependent upon program details
Cost: $75 minimum, dependent upon program details
 Classroom resources:  Please visit the K-12 Programs webpage to learn more about the classroom resources, including lesson plans not listed here.
Teacher professional development: The KBS K-12 Partnership provides teachers in-depth exposure to research topics in environmental science and training to teach inquiry-based science at the elementary and secondary levels.