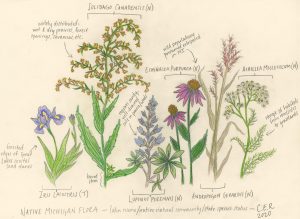 Credit: Corinn Rutkoski
"What is it you plan to do with your one wild and precious life?" ~Mary Oliver
There is beauty and wonder all around us. Learning how to keep a nature journal of your observations can help deepen your connection to art, science and place.
This course provides an introduction to ecology at several spatial scales, including landscapes, communities and species. Over three classes, participants will learn art techniques to sketch landscapes, species interactions and organisms using colored pencils.
Join local artist Olivia Mendoza and KBS scientists to discover how science and art intersect, build scientific knowledge and awareness through journaling.
This program is a collaboration of W.K. Kellogg Biological Station and Kalamazoo Institute of Arts.
Course information
Dates: Three Saturdays mornings, July 11 and 25, and Aug. 8, 2020
Time: 9 a.m. to 1 p.m
Course Fee: $160 for Sanctuary and Kalamazoo Institute of Arts members, $180 for non-members
Registration: https://events.anr.msu.edu/NatureDrawing2020/
Space is limited to 20 people, and spots will fill up quickly!
Questions: Please call (269) 671-2510 or email birdsanctuary@kbs.msu.edu
What is nature journaling?
A nature journal is a place to record and interpret your observations, feelings, and experiences of the world. Nature journaling is a way of both observing nature and collecting records, by writing, drawing and noticing what we see around us. It provides an opportunity to connect with the natural world and develop a greater awareness of and caring for the Earth.
What does a nature journaling course look like?
Each of the three classes will focus on a different ecological scale, starting with landscapes and ecosystems, then communities, then species.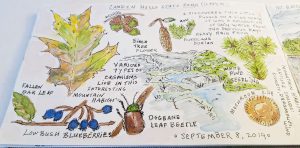 Credit: Laurie Murray
Course description
Week 1, July 11, 2020: Landscapes and Ecosystems
KBS scientists: Lindsey Kemmerling, Robert Logan, and Corinn Rutkoski
Overview: This class will open with a presentation on "How to Think Like a Naturalist, Artist and Scientist" and a discussion about the intersection of art and science by Corinn Rutkoski. Lindsey Kemmerling and Robert Logan will present on landscape ecology and ecosystem functions. The class will visit multiple habitats (e.g., agricultural land, prairies, wetland, forest) at the W.K. Kellogg Bird Sanctuary with the art instructor to learn how to sketch landscapes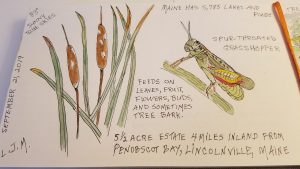 Credit: Laurie Murray
Week 2, July 25, 2020: Communities
KBS scientists: Dan Turner and Meredith Zettlemoyer

Overview: We will discuss plant-plant and plant-insect interactions in the context of prairie communities and visit a prairie with the art instructor, where we will learn to draw plants and some of the organisms they interact with.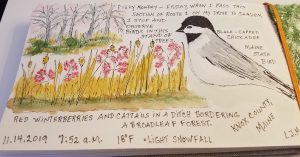 Credit: Laurie Murray

Week 3, Aug. 8, 2020: Species
KBS scientists: Jackson Helms, Alice Pulchalsky and Tayler Chicoine Ulbrich
Overview: We will discuss the ecology of organisms–including moths, switchgrass and ants–and participants will learn how to draw a particular organism.