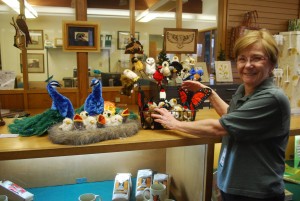 By becoming a member, volunteering your time, or making a gift to the Sanctuary your donation supports the Sanctuary's mission of conserving native habitat for migratory and resident birds and through research, education, and outreach helps people gain environmental awareness about our past, present and future. Thank you!
Become part of the Sanctuary family and enjoy the grounds year round!
Become a member today for more fun visiting local attractions! Sanctuary members enjoy reciprocal memberships to five other southwest Michigan cultural attractions in October .
Share your time and talents by joining the Sanctuary team as a Sanctuary volunteer! Volunteers guide tours, welcome visitors in the gift shop, and work to keep our gardens blooming.
Your gift supports day-to-day operations, programming, bird care and facility needs.
Funds to this endowment support student internships and wildlife conservation, habitat preservation and restoration in memory of the Sanctuary's former Director, Joe Johnson.
By Mail: Make checks payable to MSU and mail to address below:
W.K. Kellogg Biological Station
Attn: Sarah Carroll
3700 E Gull Lake Drive
Hickory Corners, MI 49060
For more information, or if you have questions about donating, please contact Development Coordinator, Sarah Carroll at (269) 671-2444 or email.