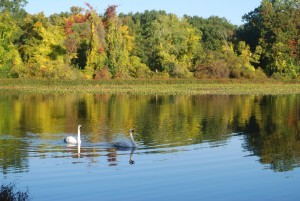 The W.K. Kellogg Bird Sanctuary has a long history of supporting research and wants to encourage the Sanctuary's use for the future. We are open year-round and available as part of Michigan State University's W.K. Kellogg Biological Station in SW Michigan. The Sanctuary includes 180 acres of land that provide researchers with a variety of natural and managed systems in which to conduct ecological research; including wetlands, lakes, ponds, forest, and crop-land.
Visit the KBS Research Page for more details on research done at KBS.
If you are interested in conducting research at the Kellogg Bird Sanctuary please see the KBS Visiting Researchers Page.
Research Facilities of the Kellogg Bird Sanctuary
Common use boats
Field Lab space
Space for captive bird research dependent upon project and funding
For more information, please contact the Kellogg Bird Sanctuary at (269) 671-2510 or birdsanctuary@kbs.msu.edu.