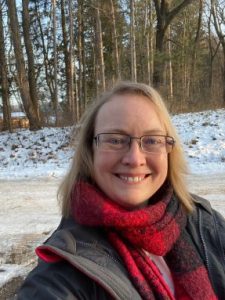 Casandra DeBoer joined the Bird Sanctuary staff in December of 2021 as a Resource Center Clerk. She has a B.A. in English Literature and Language Art, and a minor in Elementary Education from Grand Valley State University. She is a nature enthusiast and is here to learn more about the world of birds right along with you. When she is not at work she can be found spending time with her family, Girl Scouting, crafting or playing with one of the family pets.
Email: deboerc6@kbs.msu.edu
Phone: (269) 671-2356
---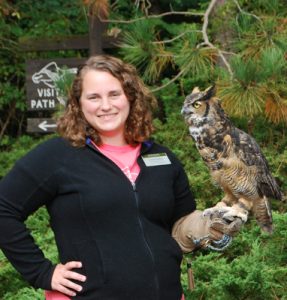 Lisa Duke joined the Kellogg Bird Sanctuary in May 2012 as the Animal Caretaker and is now the Sanctuary Manager. Lisa has a B.S. in Zoology from Michigan State University with a concentration in Zoo and Aquarium Science. Lisa has a love of the outdoors and all animals found in it. She resides in Battle Creek, MI with her husband, sons, and plethora of pets.
Email: lisaduke@kbs.msu.edu
Phone: (269) 671-2511
---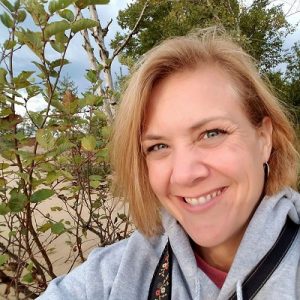 Tiffany Greenfield joined the Kellogg Bird Sanctuary in September of 2017 as Administrative Support. Tiffany has an Associates in Accounting from Jefferson Community College in Watertown, NY. Tiffany loves to spend time outdoors and traveling with her husband and two sons. She is especially passionate about her community of Hastings and Barry County. In the spring and summer months, Tiffany can be found with her family monitoring nest boxes throughout Barry County.
Email: greenf27@kbs.msu.edu
Phone: 269-671-2265
---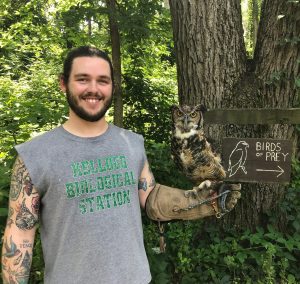 Brenden Kokx joined the Sanctuary in July of 2020 and is now the Avian Caretaker. He has a B.S. in Fisheries and Wildlife Management from Michigan State University. He found an affinity for birds while serving as the Joe Johnson Fellowship intern here at the Sanctuary in 2017. He loves all things adventure, but especially birding, hiking, and hammocking. When he's not at work, he and his wife, CeeJay, spend as much time as they can outside with their dogs.
Email: kokxbren@msu.edu
Phone: 269-671-2181