Come and visit the W.K. Kellogg Bird Sanctuary! The grounds are open every day of the year!
Explore our 3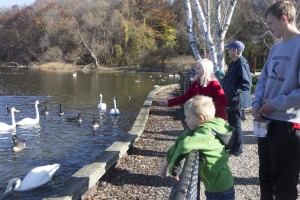 miles of trails and experience a variety of habitats surrounding Wintergreen Lake, the heart of the Sanctuary grounds. Visitors will see a variety of birds that call the Sanctuary home. Waterfowl, gamebirds, and raptors are on display year-round. The Sanctuary is a great place for birding, nature photography, and enjoying a walk outside. Pack a picnic and spend the whole day!
The Sanctuary is located in Augusta, Michigan, 15 miles north of Kalamazoo and 12 miles north-west of Battle Creek.
The Sanctuary needs to maintain a safe space for our native wildlife and our visitors. Please show your respect by following a few simple rules and refraining from:
Bringing pets
Using bicycles, Rollerblades, skateboards, etc. inside the property
Bringing in food to feed the waterfowl and other wildlife. Corn is available for purchase in the Resource Center for $1 per bucket.
Using tobacco products. Michigan State University is a Tobacco-Free Campus.
Bringing in firearms. Michigan State University policy state that except as permitted by state law regulating firearms, no person shall possess any firearm or weapon anywhere upon property.
Using drones. Michigan State University policy does not allow drone use for recreational purposes on property.
Please remember to pack out your litter.
Thank you for your understanding.
Further information to plan your visit: