Come and visit the W.K. Kellogg Bird Sanctuary! The grounds are open every day of the year!
Explore our 3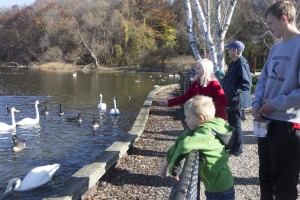 miles of trails and experience a variety of habitats surrounding Wintergreen Lake, the heart of the Sanctuary grounds. Visitors will see a variety of birds that call the Sanctuary home. Waterfowl, gamebirds, and raptors are on display year-round. The Sanctuary is a great place for birding, nature photography, and enjoying a walk outside. Pack a picnic and spend the whole day!
The Sanctuary is located in Augusta, Michigan, 15 miles north of Kalamazoo and 12 miles north-west of Battle Creek.
The Sanctuary needs to maintain a safe space for our native wildlife. Please do not bring pets, bicycles, rollerblades, or skateboards inside of the Sanctuary grounds. Do not bring in food to feed the waterfowl. Corn is available for purchase in the Resource Center for $1 per bucket. Please remember to pack out your litter. Thank you for your understanding.
The Sanctuary is a Tobacco-free Campus.
Further information to plan your visit: