Come and visit the W.K. Kellogg Bird Sanctuary! The grounds are open every day of the year!
Explore our 3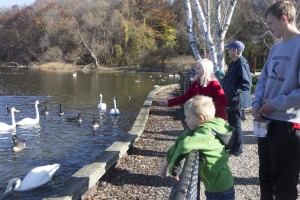 miles of trails and experience a variety of habitats surrounding Wintergreen Lake, the heart of the Sanctuary grounds.  Visitors will see a variety of birds that call the Sanctuary home.  Waterfowl, gamebirds, and raptors are on display year-round.  The Sanctuary is a great place for birding, nature photography, and enjoying a walk outside.  Pack a picnic and spend the whole day!
The Sanctuary is located in Augusta, Michigan, 15 miles north of Kalamazoo and 12 miles north-west of Battle Creek.
Further information to plan your visit: