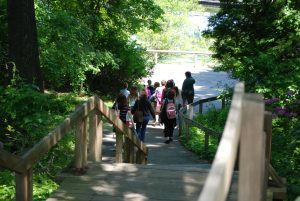 The W.K. Kellogg Bird Sanctuary welcomes groups of all ages! Group visit rates are available for 10 or more people and your group can choose to explore the Sanctuary with a Field Trip, a Guided Tour, or on your own. Check out the Self-Guided Activities page for some fun ways to experience the Sanctuary!
If you are interested in visiting other areas of the W.K. Kellogg Biological Station with your group, like the W.K. Kellogg Manor House, please fill out the KBS Group Tour Contact Form.
Group Visit Admission Prices
The group visit rate will only be applied if you have 10 or more people in your group. If your group is less than 10, the general admission rate will be applied.
| Group Visit Admission | Price |
| --- | --- |
| Adults | $4.00 |
| Senior (62+) / College Student | $3.00 |
| Children (2-17) | $2.00 |
| Under 2 | Free |
| Teachers/Group Leaders | Free |
Group Visit Booking
Fly your flock over to the W.K. Kellogg Bird Sanctuary! If your group is interested in a guided tour or field trip, it should be scheduled at least four weeks ahead of your preferred date. Group visits can be scheduled up to a day in advance. Please fill out the form below or contact the Sanctuary by phone at (269) 671-2510 or email birdsanctuary@kbs.msu.edu. Please note that no reservations are considered final until you receive confirmation by a Sanctuary staff person.
Bus Scholarships for School Groups

New this year, $500 bus scholarships for school groups. Thank you to West Michigan Honda Dealers for supporting this program! Educators need to complete the Bus Scholarship Application form below and have a signed copy of the Bus Scholarship Administrator Letter ready for upload. Please use this file to prepare information for filling out the form: W.K. Kellogg Bird Sanctuary Bus Scholarship.
Applications are due by March 9th for group visits in April, May and June.
Applications are due by August 31 for group visits in September and October.
If the scholarship amount is more than the cost of the bus travel, the difference can be put toward field trip or guided tour fees at the Sanctuary.