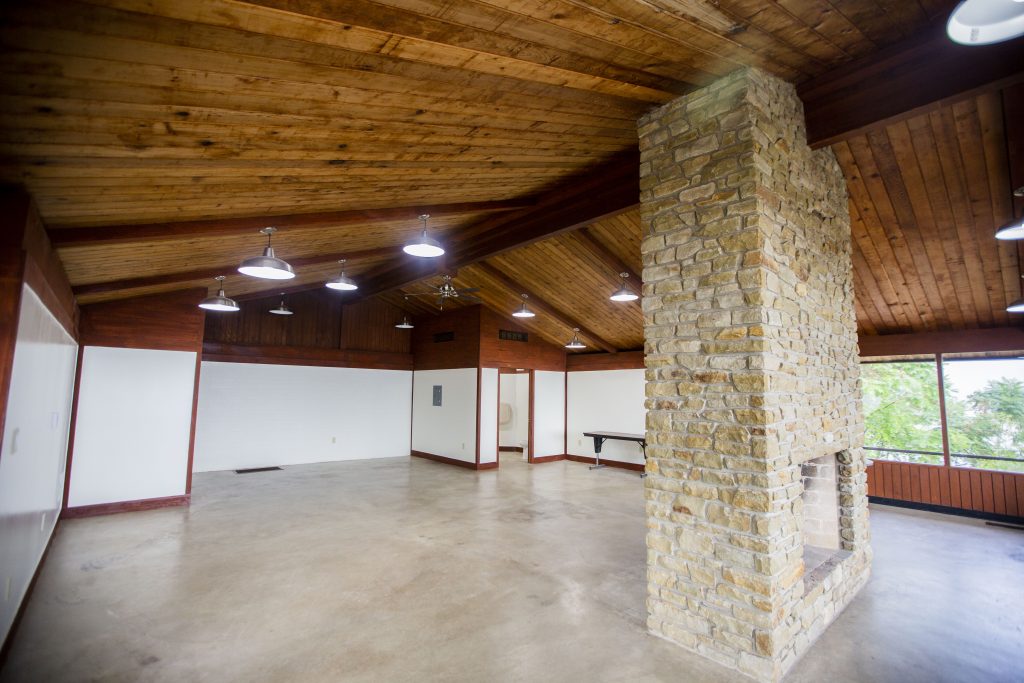 "I didn't think this was going to be possible for maybe twenty years," said Lisa Duke, Sanctuary manager, as she looked around at the renovated Overlook building. "It's an amazing improvement right at the heart of the Sanctuary."
Since the structure was originally built in the 1960s, the Overlook's panoramic windows have provided prime views of Wintergreen Lake. However, its full potential for education and community-building has never been realized until now. Thanks to recent renovations made possible by an undesignated gift, and donations made in the memories of longtime Sanctuary supporter Earl Tappenden and Sanctuary volunteer Gary Roeker, the space is now warm and welcoming, and well equipped for events year-round.
Duke hopes to be able to use the space for classes and outreach programs. During the day, the Overlook is also a peaceful place for KBS students and guests to read and study.
Knotty pine trim, bright ceiling lights, and clean white walls have replaced the Overlook's former dark interior of dim light and taxidermy displays. In a few months, the walls will be home to museum-quality educational panels from the Michigan State University Museum, featuring the Sanctuary's history of conservation.
Beyond its aesthetic improvements, the structure is now much more functional – and environmentally and economically sustainable. The lights hanging from the ceiling are equipped with dimmers, motion sensors and timers, as well as energy-efficient LED lightbulbs.
In February, Brad Osborn and staff from the KBS Physical Plant, grounds and custodial teams began working tirelessly to remodel and clean the Overlook.
"I'm most proud of how my team worked together throughout the project, but especially early on," said Osborn. "We were outside in extremely cold weather conditions, doing really difficult work, and my team was committed to working no matter what."
The team excavated the existing unused septic tank system in the winter, digging an 8-foot hole to inspect, repair and certify the tanks before connecting them to new plumbing for the building. Thanks to that labor, the Overlook now has its own accessible single-stall bathroom.
The team took full advantage of the excavation, adding electrical and water infrastructure down the hillside and along the walkway to power additional bubblers for waterfowl to have open water in the winter.
Depending on additional funding, future improvements to the Overlook may include a kitchenette, storage space, and a renovated fireplace. This project is just one of many recent improvements at the Sanctuary, including new trail signs and expansion of the Pollinator Garden.
Duke imagines the space filled with people who are excited to learn and grow through the Sanctuary's programs, in sight of the lake's resident and migratory waterfowl. We hope you'll stop at the Overlook to take in the views both inside and outside of the building during your next visit to the Sanctuary!