My fingers twitch every time I walk past dried coneflower seed heads in the gardens at the Kellogg Bird Sanctuary. My desire is to cut back anything dark brown or unattractive in the flower garden. But gardening for wildlife requires a different mindset:
Being a seasonally messy gardener me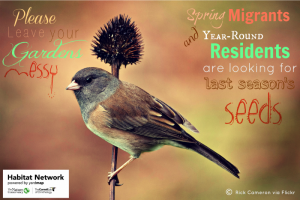 ans letting your garden accumulate leaves, stalks and seed heads in the fall –rather than raking and clipping it clean. Birds can hide from predators in dead vegetation, search for food among dried seed heads and perch on stalks while looking for mates or prey.
Bees and butterflies will also use your winter oasis. Messy gardens provide cover for many small creatures during the months when they are dormant or hibernating. Some caterpillars can overwinter in a rolled up leaf, emerging as adults in spring. Left undisturbed, they will stay for the entire winter. Native bees also will take winter refuge under a pile of bark or a log, dried leaves, or nest in hollowed out plant stems and be ready to pollinate your spring blooming flowers.
Keeping the end of season's plant materials in the garden has a human benefit as well—visual interest. Stalks lend a welcome vertical interest to a flat snowy landscape.
Snow clinging to these natural structures is an often photo worthy sight.
If leaving your garden messy is too big a change, consider leaving just a small strip of messy garden instead of your entire yard or garden. Select a spot removed from your main sightline. Then venture out to explore the abundance of life using this area and compare with more manicured areas of your property. The winter phase of a native garden, with desiccated flowers covered in a light coat of snow or ice and grasses moving softly with the wind whisper of the beauty and sturdy fragility of winter.
So, consider enjoying other fall activities this year and let the leaves stay in the garden for wildlife.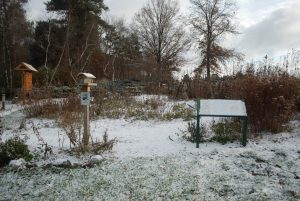 Be sure to stop by the Bird Sanctuary this winter to see this practice in action!