Have you seen our bald eagles yet? If not, come check them out because they won't look this way for long! Libe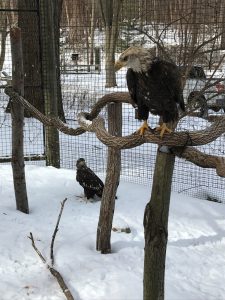 rty, age four, and Patriot, age three, are our resident Bald Eagles. Both of our handsome boys came to us with permanent wing injuries and are still considered "juveniles," but within the coming months; one of them will reach full maturity!
At four years of age, eagles reach full maturity and grow in their adult plumage. This means that they will have fully developed their white head and tail and yellow beak that is characteristic of the bald eagle. Before this time, bald eagles have dark brown feathers covering their entire body and a dark brown beak. With each yearly molt, their head and tail take on more white feathers. Their beak will also lighten up over time until it is fully yellow.
This is a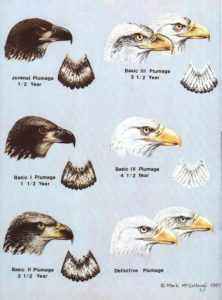 n important year for Liberty because he will go through his first molt in adult plumage, and finish looking like a full mature adult eagle. If you refer to the illustration beside this for reference, right now Liberty would be at the "Basic III" stage; however, after this year's molt he will look like the "Basic IV" or "Definitive Plumage" stage.
If you are looking for Liberty and Patriot, you can find their habitat along the Raptor Loop. Stop by and take a look at these boys while they still have their juvenile plumage!