As fall rolls in, you may start to notice that you are seeing monarch butterflies more abundantly than you have seen them all summer. Monarch butterflies are known for their beauty, but you might be surprised to find out these butterflies are in danger.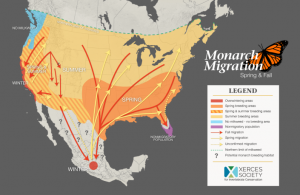 Each year, around the end of August through the fall months, monarch butterflies down to central Mexico to their overwintering sites. Their journey can be as far as 3,000 miles and traveling as many as 100 miles per day! They are traveling each year to escape the harsh winters that they cannot survive.
Once the monarchs reach their overwintering sites, they will stay huddled on oyamel fir trees (Abies religiosa) for the entire winter. These trees are one of the only trees you will find monarch butterflies spending their winters. These trees are covered top to bottom with tens of thousands of butterflies packed onto the tree in order to conserve heat.
As winter comes to an end, monarchs begin their relay race back northward to summer breeding areas. It can take as many five generations of monarchs to travel from their overwintering sites to their summer breeding areas in Southern Canada.
Since monarchs have such a specific life cycle, they are very susceptible to being affected by changes in climate. The monarch population took a hit in 2012, when the lowest number of monarchs ever overwintering in Mexico was recorded. The decline in population was caused largely by the loss of milkweed, a plant that is integral in the monarch life cycle, and extreme fluctuations in climate.
If you would like to help the monarch population consider planting milkweed in your garden, and including more wildflowers that are native to your state! You can find seed packets full of milkweed seeds and other monarch-friendly, Michigan native plants at the Sanctuary Book Store while supplies lasts!
Sources:
https://www.nationalgeographic.com/news/2017/10/monarch-butterfly-migration/
https://monarchlab.org/biology-and-research/biology-and-natural-history/breeding-life-cycle/annual-life-cycle/
https://www.nationalgeographic.com/news/2013/3/130318-monarch-butterflies-animals-science-environment-nation/
Angela Scapini
Animal Care Technician