If I had to pick a bird to work with that I have never worked with before it would be a swallow. Swallows are a type of songbird that eat flying insects, that's why they are called aerial foragers. If you have seen swallows before, I bet they were flying above you at a very high speed. They spend most of the time up in the air which is why they have very small legs and pointed wings that lets them fly very efficiently. If you see them flying, they kind of look like a jet plane.
Swallows throughout history
Swallows appear in many legends and stories throughout history. In San Luis Potosí, Mexico, there is a famous Sótano de las golondrinas (Cave of Swallows) (Photo Credit www.elclima.com.mx). This open pit cave of ~1,100 feet deep is home to hundreds of white collared swifts (vencejo de cuello blanco). Although the cave is named after swallows, swallows are rarely seen there. This cave used to be a cenote with sacred waters for the Huastec people. The legend (the short version of it) says that the Gods made the earth swallow all the water as a punishment to the people. But when Spaniards arrived, snakes came out of it to help natives fight against them. After the Spaniards left, the snakes transformed themselves into swifts that since then live in this cave. For many other cultures swallows are sacred and their nests should never be removed. Some people in Europe believe that killing a swallow is a sin.
But what's special about swallows?
Some swallows migrate long distances. Cliff swallows (golondrina risquera) can migrate from Alaska all the way to Brazil and Argentina. For example, Tree swallows (golondrina bicolor), Barn swallows (golondrina común) and Bank swallows (golondrina ribereña) migrate from Alaska and Canada to Central America.
In Michigan, you can find all these species during the breeding season. Barn and Cliff swallows build their entire nest out of mud and twigs, while Tree and Bank swallows nest in holes. Cliff and Bank swallows nest in colonies. Cliff swallows like to nest along cliff sides, bridges or dams among others, while Bank swallows build their nests in vertical banks and bluffs. These characteristics make swallows great flyers that can migrate very long distances and are engineers when building their nest. No wonder why humans have been amazed by them.
Take a look at the picture below to compare all the different nests. A. Tree swallow B. Cliff swallow C. Barn swallow D. Bank swallow. (Photo credit. A. Anonymous/ Macaulay Library B. Mitch Wlters/Macaulay Library C. Lauren Wilson Neish/Macaulay Library D. Serge Morneau/Macaulay Library) A cool fact about barn swallows is that they recycle the nests they built in the past and reuse them every year, and it is common that new pairs take over old nests. That is why, if you see an old nest, DO NOT REMOVE IT!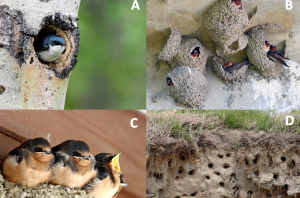 Do you want to help swallows?
You can help Barn swallows by building a nest structure and Tree swallows by building a nest box. It is always beautiful to have them around and enjoy them with your family. Now is a beautiful time to see swallows at the bird sanctuary! Come visit us and let us know how many you see!
---
Elizeth Cinto Mejía is a Ph.D. candidate in Michigan State University's Department of Entomology who conducts research at W.K. Kellogg Biological Station. She is a 2021-22 Science Education and Outreach Fellow at KBS.