This time of year, I've got migration on the brain, as I've been seeing monarch butterflies (Danaus plexippus) at the Kellogg Biological Station. Like us, the monarchs sense that fall is in the air– changes in day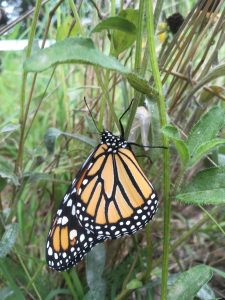 length and temperature, aging milkweed, and fewer flowers to nectar off of tell monarchs that it is time to fly south.
The monarchs that we see in August and September in Michigan are part of the 'super generation': they typically live 6-9 months and will fly up to 3000 miles to their overwintering grounds in Mexico. Monarchs in Eastern North America typically have 3-4 generations per year. The second, third and fourth generations generally live 4-6 weeks as adults and spend their time in the Eastern United States and Canada. The super generation's migration is remarkable– the butterflies that migrate to Mexico have never been there before (their great-great-grandparents were), and yet, members of the super generation manage to navigate to a small region in Mexico to overwinter.
Not just monarchs…
How does the monarch super generation manage to make it to the mountains of Mexico to overwinter? Scientists are still answering this question! Scientists have hypothesized that monarchs may use a combination of orientation via the sun, the earth's magnetic field, genetics, and orientation via mountain ranges. Migration helps monarchs to take advantage of milkweed food and nectar resources in northern North America during the summer, while escaping to the relative warmth of Mexico during the winter.
Monarchs aren't the only ones taking advantage of the benefits of migration– did you know that other Lepidopterans (organisms in the family Lepidoptera, which includes moths and butterflies) migrate, too? In the United Kingdom, summers welcome the arrival of the Hummingbird hawkmoth, which migrates from the Mediterranean and Northern Africa. A study published in 2022 found that the death's-head hawk moth, which migrates to Europe in the spring and back to the Mediterranean and sub-Saharan Africa in the fall, uses an internal compass to navigate its migration.
Our part to play
Monarchs may be able to migrate 3,000 miles, but they are still in need of our help due to declines in their populations. Here are some ways you can help monarchs:
Advocate for habitat conservation in your area
Choose organic foods when possible to reduce pesticide risks to Monarchs
---
Alice Puchalsky is a doctoral candidate in the Haddad Lab at the Kellogg Biological Station and a Science Education and Outreach fellow for the 2023-2024 academic year.