Learning how to keep a nature journal of your observations can help deepen your connection to art, science, and place. This course aims to introduce ecology and evolution at several spatial scales,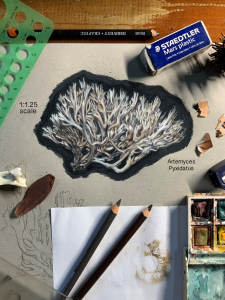 including populations, communities, and landscapes. Participants will learn to practice art with a scientific eye. They will learn to draw from references based on the scientific method and develop techniques to sketch organisms, species interactions, and landscapes, using graphite and colored pencil. Join local artist, Taylor Scamehorn and KBS scientists to explore the interactions of art and science, build scientific knowledge and awareness through journaling, and build intentional observation as scientists, artists, and naturalists.
From the artist:
"Art and Science overlap continually. Both are sparked by curiosity, both are interested in proving observed phenomena, both champion accuracy, and to achieve that, require you to explore different ways of looking at something to discover more about it. Through my scientific method of drawing, you will learn how to trust your eyes, practice precision, and engage your curiosity using the following  principles to hone your observational skills:
Honing your observational skills
Identifying variables and limitations, and creating a controlled working environment
Developing hypotheses, and learning how to make informed guesses in your drawing
Refuting and proving your hypotheses both through the comparison of constants and using simple math
Thinking about subjects within space, and in relationship to their environment, as well as how that relates to ecology
Gain skills and experience in:
Thinking like an artist, a naturalist, and a scientist
Understanding biodiversity at the population, community and landscape, scales
Identifying patterns and interactions in nature
Learning art techniques using graphite and colored pencils

Making scientific and artistic observations about nature at different scales

Letting your curiosity and exploration of nature navigate subject choice and composition, so that your work is both visually interesting and educational
About the course, from past participants
"I have never journaled or drawn, so this is exciting! I am going out today to start observing and drawing. Awesome class!"
"This class helped break the ice to try something I was intimidated to do."
"I want to continue my exploration of this beautiful world, share with kiddos that I am close with to extend the love of nature and art to future generations"
Course schedule
Classes focus on different biological scales, starting small with populations, then zooming out to communities, and even further to landscapes. 
Week 1: Introduction to Nature Journaling
Overview: Nature journaling is a way of observing the environment by sketching what you see and jotting down notes about your observation, your surroundings, and what it reminds you of.

In-Class Art Activity:

This will be an interactive program. Please be ready with an object to observe (it can be anything from your yard – a leaf, flower, rock, whatever you think looks cool!), paper, pens or pencils, and excitement to draw.
Week 2: Population Ecology & Evolution 
Overview: Science Education Fellow

and PhD candidate Robin Waterman will discuss her research on adaptation in a weedy annual plant species.

In-Class Art Activity:

Local artist will lead the class in drawing a single organism up close.
Week 3 : Community Ecology & Evolution
Overview: Science Education Fellow

and PhD candidate Isabela Borges will present her research on how interactions among species in a community affect the evolution and persistence of those species.

In-Class Art Activity: Local artist will lead the class in drawing multiple species interacting.
Week 4: Landscape & Ecosystem Ecology 
Overview:  Science Education Fellow

and PhD candidate Alice Puchalsky will present her research on landscape ecology and ecosystem services.

In-Class Art Activity:

Local artist will lead the class in drawing a Michigan landscape.
Course Fee:
Register by Tuesday, Feb. 1, for discounted course fees of $50 for Sanctuary members or $60 for non-members. Beginning Feb. 2, registration is $55 for members and $65 for non-members. Registration closes on Feb. 13.
Questions? Please call (269) 671-2510 or email birdsanctuary@kbs.msu.edu