Date/Time
Date(s) - 09.14.2020
6:00 pm - 9:00 pm


Download Event iCal
Categories
The Conservation Stewards Program offers a combination ofclassroom and field experiences on ecology, conservation heritage, grasslands,wetland and forest ecosystems.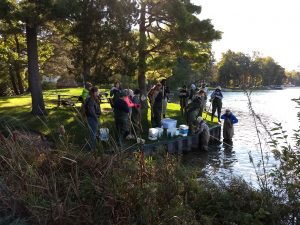 Classes are offered during select Monday nights between Sept. 14 and Nov. 9, 2020, along with two Saturday field days Sept. 26, and October 10, 2020.
Participants complete additional coursework online and pursue ahands-on capstone project (assistance will be provided in finding projects thatmatch in individual's interests).
Professional level instruction provided by MSU Extension, Michigan Natural Features Inventory, Michigan Department of Natural Resources and local conservation organizations. Sessions are offered in a variety of locations, including the Kellogg Bird Sanctuary and Kalamazoo Nature Center, which highlight local natural areas.
Cost: $250
Registration opening soon.
For more information:
Website: https://www.canr.msu.edu/conservation_stewards_program/index
Facebook: https://www.facebook.com/MIconservationstewards/
Beth Clawson, MSU Extension:clawsonb@anr.msu.edu,
Anna Kornoelje, Kalamazoo Nature Center: akornoelje@naturecenter.org
Misty Klotz, Kellogg Biological Station: klotzmis@msu.edu