Winter is a time to reset and plan for the new year. With all the unknowns in this ever-changing time, the sanctuary is focusing on keeping the grounds open and safe for visitors and providing online educational programs.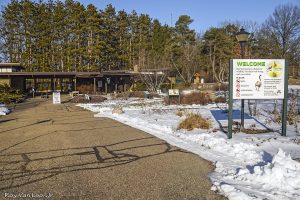 We are open to visitors 9 a.m. to 5 p.m. Wednesday to Sunday. During this time the walk-up window will be open as much as possible to answer your questions and to sell corn and souvenirs. With our limitations due to the pandemic, it is not always possible to have the walk-up window open. We thank you in advance for using the green honesty box in those times that we can't staff the window. We value your continued support.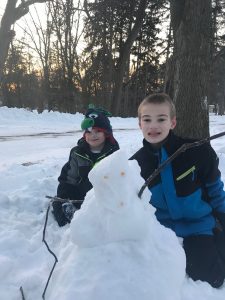 All our trails are open during the winter months. During the snowy season, the Paved Path is plowed and sanded for easier viewing of our resident birds. Salt is used sparingly to keep the birds safe, so make sure to have good traction on your boots when you come to walk! The unpaved hiking trails like the Lake Loop and Bluebird Trail are not plowed. Snowshoes or cross-country skis are welcome on these trails, but they are not groomed for them. It is fun to see the snowmen that are youngest visitors leave behind!
Join us online for our upcoming educational programs from the warmth of your own home! Birds and Coffee Chats, Winter Twig Identification, Nature Drawing, and Field Ornithology are all coming up soon! These programs are geared toward persons aged 14 and above and most have a program fee.
Our Birds and Coffee Chats are on the second Wednesday of the month at 10 am. In this program, we talk about 5 bird species and listen to their calls. We leave lots of room for questions and conversation and will be talking about European Birds in February and Woodpeckers in March this program is free but make sure to register ahead of time!
If you are looking to spice up your winter hikes with a new skill or looking to brush up on the basics, the Winter Twig Identification Workshop might be for you. Join Danielle Zoellner Ph.D. from Idle Awhile Farm and Forage on February 11, 2021 from 6 p.m. to 7 p.m. as she takes us through how to ID plants we may see on our winter walks.
The Nature Drawing: Blending Art and Science course brings together scientists and local artist Olivia Mendoza to share how art and science can intersect. This four-week course will start on Thursday February 18 from 6 p.m. to 7:30 p.m. Olivia will demonstrate art techniques to sketch landscapes, plants and insects.
Field Ornithology is a great way to work on your bird identification skills with Josh Haas from Hawks on the Wing and Lisa Duke your Sanctuary Manager. This spring will focus on migration and will incorporate videos and hopefully some live video birding on Wintergreen Lake. Hope you can join us!
Whether it is online or hiking the trails, we look forward to seeing you soon this winter season!