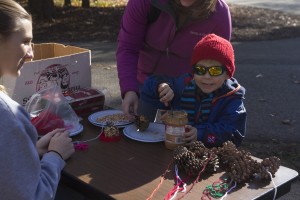 ATTENTION: For over 90 years the Kellogg Bird Sanctuary has provided you and your family a space to enjoy nature at its finest throughout the year. To prevent the spread of COVID-19, we've canceled or postponed in-person events indefinitely. However, the Sanctuary trails remain open Wednesday to Sunday between 9 a.m. and 5 p.m. as long as visitors follow social distancing and safety guidelines.
Follow all posted signs at the Sanctuary.
Wash your hands before visiting and carry hand sanitizer.
Do not use the trails if you have any COVID-19 symptoms.
Maintain a six-foot distance from all other visitors on the trails and in the parking lot.
Bring your own water.
One restroom is open.
Pack out any trash.
Join us on social media! Share pictures of your Sanctuary visit, or any time outside. Follow us on Facebook, Instagram and Twitter for information and upcoming virtual events.
The Kellogg Bird Sanctuary is excited to offer many courses, family programs, and citizen science workshops to the public throughout the year. Some of our yearly highlights are our Field Ornithology Course, Fall Migration Celebration, and more. See the calendar below for what's happening!
To view a full calendar of all events across KBS units, click here.
---
CONTENTS
Cancellation Policy for Events Requiring Registration: If a program is cancelled due to weather or other circumstances by the W.K. Kellogg Bird Sanctuary, a full refund will be issued. If a registrant must cancel before the event's registration deadline, a full refund will be issued. Between the registration deadline and the day of the program, a 20% processing fee per registrant will be retained by the Sanctuary. No refunds the day of an event or after. For events that require prepayment, no space will be held without full payment.