Meet a live raptor, one of the W.K. Kellogg Bird Sanctuary's resident ambassador birds! Find out what they eat, how they nest and where they can be found in the wild!
Program options are available for elementary (2nd grade and up), middle and high school students. Programs run for 35-60 minutes, depending on grade level, and can be scheduled between 9:30 and 11 a.m. on select days.
What to expect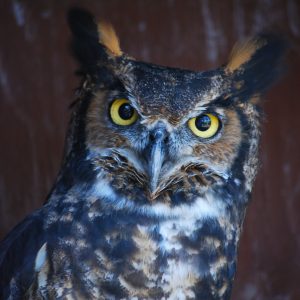 The fee for live programs is $50 per class (up to 30 students) or $125 per class (up to 150 students).
One week before the event, we'll send you some information about birds of prey to review with your students. They'll be able to submit their questions ahead of time.
You will receive a link to the virtual field trip two days before the program.
Plan to start your meeting or webinar 5 to 10 minutes before the scheduled start time.
Students and teachers will be muted during the presentation.
You'll be able to submit questions in the chat or Q&A feature. We will answer questions after the program.
Animal caretaker career card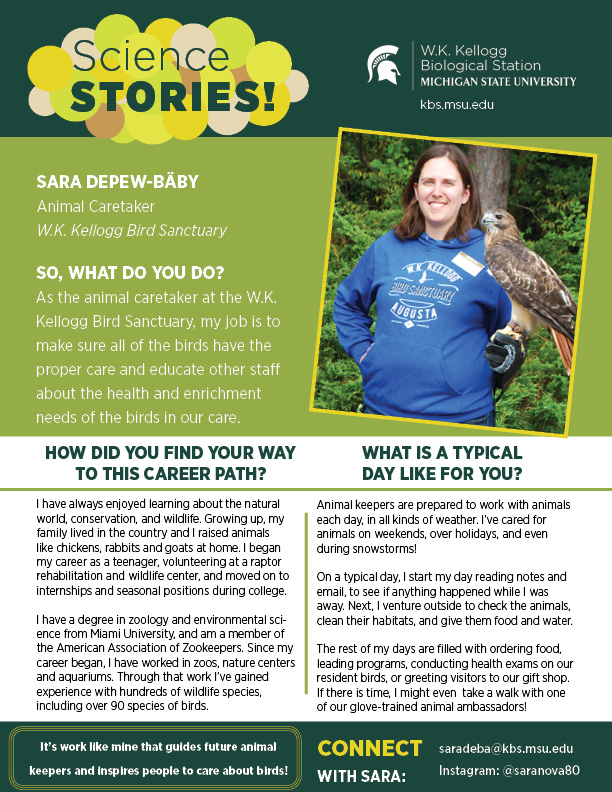 NGSS standards
2nd grade: 2-LS4-1 Make observations of plants and animals to compare the diversity of life in different habitats
3rd grade: 3-LS3-2 Use evidence to support the explanation that traits can be influenced by the environment.
4th grade: 4-LS1-1 Construct an argument that plants and animals have internal and external structures that function to support survival, growth, behavior, and reproduction.
5th grade: 5-ESS3-1 Obtain and combine information about ways individual communities use science ideas to protect the Earth's resources and environment.
Middle school: MS-LS2-2 Construct an explanation that predicts patterns of interactions among organisms across multiple ecosystems
High school: HS-LS4-4 Construct an explanation based on evidence for how natural selection leads to adaptation of populations
Find more information about Next Generation Science Standards.